Event Information
---
Together, Stronger! Book one of our Outdoor Team Building Event Packages for your company away day - Bear-Style!
Our Outdoor Team Building events and activities range from a mixture of exciting, fun, fast, dynamic challenges that can be delivered at any location and to any type of team or group. Undertake a range of survival themed challenges, inspired by Bear and some of the greatest explorers of all time.

The Bear Grylls Corporate Outdoor Team Building Activities
Your day will be led by one of Bear Gryll's handpicked survival Instructors. They will take you on a dynamic team building and problem-solving journey, introducing you to examples of survival skills used not only by Bear himself but also by some of the most inspirational adventurers of the last 200 years.
These extreme team building activities encourage new adventures and styles of leadership, bringing your team together to have fun, in a safe and challenging environment.
If want something even more different, our outdoor activities can be tailored to you. Here's just a sample of what your colleagues and employees could be doing, Bear Grylls style!

The Tower
It's almost impossible to climb high altitude peaks with no oxygen. Each climber will require two bottles each on a summit day but organizing resupply of O2 needs planning, a common sense approach and firm leadership – it's a classic team building and problem-solving activity.

Air Rifle and Pistol Shooting
Learn the essential skills and discipline to handle a firearm – remember Bear's marksmanship principles in order to hit the target in this military style team building activity.

Kims Game and Observation Lane
Straight out of the special forces' training manual, as covert operation soldiers, you will have nothing but your natural skills and ability to survive by. Observe, identify and memorise to retain and retrieve sensitive intel for your team with this idea.

Who is the most observant team member, able to retain and retrieve essential information to survive?
"Stranded" Survival Scenario
You and your team are marooned outdoors and must survive, but you will need to prioritise your actions if you want to make it make back to civilisation.
This challenge will teach your team some potentially lifesaving bush craft skills along with lessons in leadership, delegation, multi-tasking and communication.
Whiteout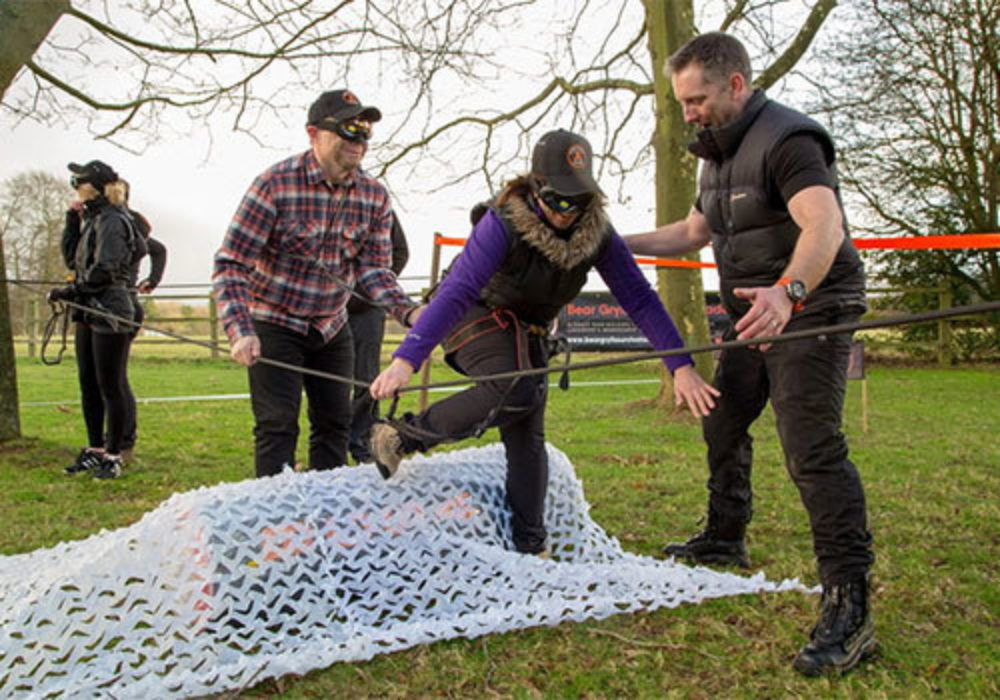 In an extreme environment, disorientated, lacking oxygen with reduced visibility – use your leadership and team skills to get safely back to base camp in this extreme outdoor team building event.

Axe Throwing
Popular as a corporate team building idea, step outdoors and move stealthily like Bear to avoid detection from predators. Then learn how to perfectly rotate an axe and hit your target.

In the SAS Bear learnt the importance of slowing down his heart rate, controlling his breathing and focusing on the job at hand. After all remember, you may only get one chance to hit your target in a survival situation.
SAS Grenade Throwing
Themed as an army team building activity, this extreme, yet fun challenge teaches you to move undetected and aim to destroy targets using our live fragmentation grenades.

You will need patience, core stability and great eye hand coordination to score highly.

Know Your Knots Giant Knot Challenge
If you are looking for survival activities for team building, look no further. In this task you will need to learn a variety of potential lifesaving knots before attempting the giant knot challenge with the whole team.

It's not as simple as it sounds!

Navigation Challenge
Self preservation is key here, as nobody is coming to save you. In this extreme team building idea, you and your team must use natural features to navigate to a cache of equipment that will assist you in navigating your way back to safety.


Pipeline Challenge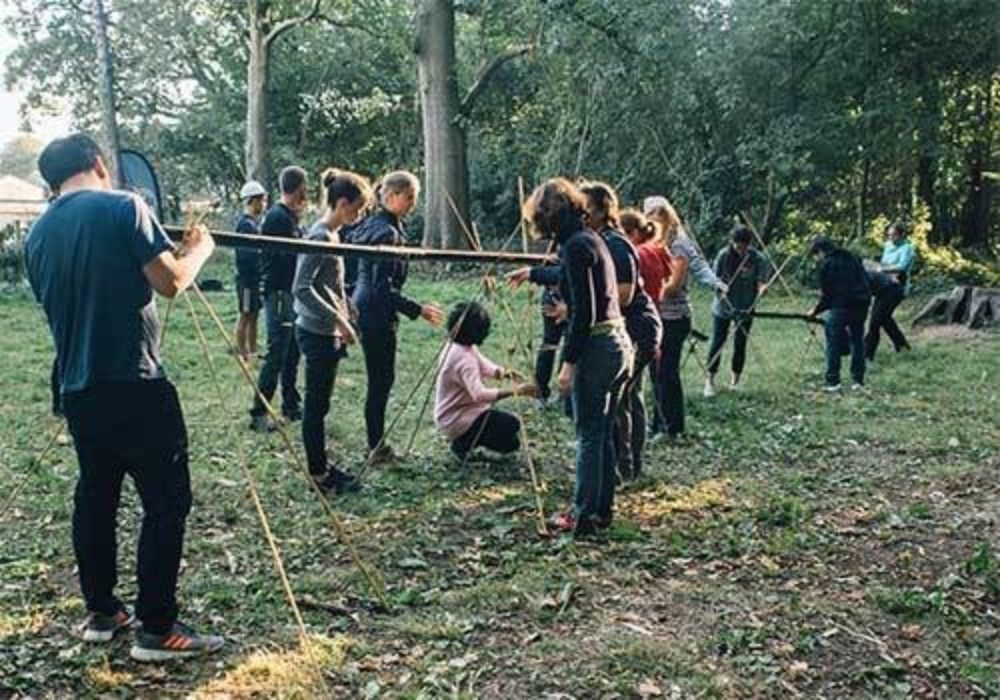 This event is all about survival… and if you want to survive, sourcing and preparing water is a must. You have been placed in an extreme environment and as a team you must help others by planning and building a pipeline to transport clean water from the dam to a village in need but communication channels are limited.

Raft Build & Race
Prepare to get wet in this extreme challenge as you compete in teams to build rafts and then race the other contestants.

Commando Crawl
Cross the gorge commando style on top of the rope, this army-themed activity requires balance, strength and core stability to regain your position.

Tyrolean Traverse
In this high ropes activity, watch our instructors use their expertise to create a Tyrolean Traverse. Your team will have to use a fixed line to cross from one point to another, while wearing a harness. Clip onto the rope and pull yourself and crucial stores across – you might need a head for heights… kind of.

Gross Eat Challenge
You have seen Bear eat literally anything in order to survive. Would you have what it takes to survive? It's mind over matter when you are faced with live mealworms, crickets, giant water beetles and other nasties. Experience what it's like to be Bear and taste them all including our very own pemmican recipe - a delicious mixture of rendered fat, dried meats,
and dried fruits - high in nutritional content and calories for much needed energy… if you can stomach it!
Improvised Stretcher Relay Race
A member of your crew has been injured. The pressure is now on to use your team's strengths, experience and skills to treat and carry the casualty to safety. You'll need to make use of what's around you, to build an improvised stretcher and as the patient's condition deteriorates, the race against time (and the other teams) begins to reach the pick up point as quickly (and safely) as possible!

Survival Archery
Archery skills go back 100s of years. When archers make mistakes, they are taught that the solution is to analyze their steps and focus on improving one thing at a time. This is a great recipe for success on the archery field and in life!
"Lost at Sea"
You are the captain of a ship. A fire on board has destroyed the radio. From the rate the water is rising inside the ship you estimate that it will sink in between 2-2.5hrs.

Your task is to decide which people will enter the boat, only enough life rafts for two thirds of the team. Everyone has agreed to abide by your decision. Items held by individuals must stay with the owner; they cannot be transferred to other people.

Sounds a LOT easier than it is!
Spear Throwing
In a survival situation, it's important to utilise every asset you have.

Hunting for wild food is difficult enough but you can be a little more efficient by creating a survival spear out of a timber staff and a survival knife.
Select your timber staff and lash the knife to the end securely.
Now the difficult part - learn to throw the spear effectively to hit your target.

You may only get one chance in the wild….
Raise the Flag
Your team has successfully reached the South Pole and now time to raise The Bear Grylls Survival Academy Flag, BUT due to melting sea ice there is an exclusion zone. If any person or piece of equipment enters the zone, you run the risk of falling in the ice hole! The team will have to use lengths of rope and design pulleys to achieve the desired aim!

Tug of War
Tug of War is a long standing favourite team building exercise.
A real sense of teamwork is created as young and old, big or small, work together as a team to come up as the victor in this battle of strength.